Online Degrees at Eastern Oregon University
A Quality Education, Your Way.
Learn More Today
Complete this form to learn more about building your future with a degree from Eastern Oregon University.
We Take Your Success Personally
Students at Eastern Oregon University graduate with more than a degree…they leave with knowledge and skills gained from the personal attention and mentorship of our faculty members. Our instructors have experience in the fields they teach, giving students the benefit of a curriculum that reflects real-life settings. Many of our students come to us from other schools and we offer a generous credit transfer policy that also rewards professional experience.
EOU has a dedicated military support team that ensures service members, veterans and their families can understand and make the most of the education benefits they so richly deserve. Learn More
Put Your Career Goals in Reach
With a degree from Eastern Oregon University, you will see your career opportunities expand as the knowledge and skills you've attained become valuable assets in the job market.
EOU is accredited by the Northwest Commission on Colleges and Universities (NWCCU).
Our business programs are accredited through the International Assembly for Collegiate Business Education (IACBE).
EOU teacher preparation courses are accredited through Oregon's Teacher Standards and Practices Commission (TSPC).
Choose from More than 20 Degrees
Our online degree programs include bachelor's of arts, bachelor's of science, bachelor's of applied science, and graduate degrees. We also offer a post-baccalaureate accounting certificate.
At EOU, you can earn a bachelor of arts, science or applied science, depending on your field of study. These degrees prepare you for a career or graduate school and beyond.
Explore the aspects of business –from accounting to administration – and how companies affect local, national and even global economies.
Bachelor's degrees are offered in:
Bachelor's in Accounting

Certified Managerial Accounting Concentration
Forensic Accounting Concentration

Bachelor's in Business Administration

Leadership, Organization, and Management Concentration

Bachelor's in Data Analytics
Bachelor's in Economics
Bachelor's in Fire Services Administration
Bachelor's in Emergency Medical Services Administration
Bachelor's in Marketing
Education is an art, a science and a calling. Prepare for a career that will let you impact the future through the students you inspire.
EOU offers a bachelor's degree in:
Bachelor's in Early Childhood Education
Champion physical well-being and mental health, for students, athletes, community members and communities as a whole.
Bachelor's degrees are offered in:
Bachelor's in Health & Human Performance

Community Health Concentration
Exercise Science Concentration
Nature and Outdoor Recreation Programming Concentration
Physical Education & Sport Concentration

Bachelor's in Psychology
Pursue a career in writing and communications or create a customized degree program to match your interests and career goals.
Bachelor's degrees are offered in:
Bachelor's in Communication Studies
Bachelor's in English/Writing
Bachelor's in Interdisciplinary Studies
Bachelor's in Public Relations
A social sciences degree can prepare you for a career in public service, education, economics and more.
Bachelor's degrees are offered in:
Bachelor's in Anthropology and Sociology

Anthropology Concentration
Sociology & Social Welfare Concentration

Bachelor's in History
Bachelor's in Politics, Policy and Public Administration
From developing software to protecting data and beyond, our technology degrees give you the skills needed to excel in an ever-growing field.
Bachelor's degrees are offered in:
Bachelor's in Computer Science
Bachelor's in Cybersecurity
Bachelor's in Information Technology Management
Build on the skills attained through your undergraduate studies and advance your career post-graduate programs from EOU.
Further your business knowledge and gain new skills to propel your organization forward.
Programs are offered in:
Master of Business Administration
Post-Baccalaureate Accounting Certificate
Complete your M.S. in Education in as few as five quarters, moving at a pace that fits your life and goals within a seven-year period.
Programs are offered in:
Master of Healthcare Administration
Our MFA in Creative Writing degree is a low-residency program providing meaningful, hands-on learning opportunities such as practica in professional editing and publishing with our award-winning literary magazine and affiliated presses.
Programs are offered in:
Master of Public Administration
EOU offers quality liberal arts and professional programs at the bachelor's and master's degree levels. Each program adheres to Our core values: altruism, INTERDEPENDENCE, civility, discovery, integrity and quality.
Request Info
About EOU Online
Convenience and flexibility are built into our online curriculum, but these are just two of the many opportunities our programs offer, including:
Only a few of our programs have minimal on-campus requirements, but a majority have none at all.
Students receive access to the same content and opportunities as on-campus students.
Students learn in a creative digital format.
The University is accredited by the Northwest Commission on Colleges and Universities.
Whether your goal is a new career or career advancement, an EOU degree or certificate will give you the credentials you need to achieve success.
A Relevant Curriculum
Each program at EOU encompasses a real-world perspective. Our instructors are experienced professionals who are able to help students apply academic theory to everyday use. Many programs offer a choice of concentration, giving you an opportunity to build skills you'll need to reach your specific goals.
Whether you're transferring in or starting from scratch, we meet you there and help you succeed by providing a personalized learning experience that will become the foundation of your career and professional life.
Top Recognition for EOU Online
Earn a quality education online from a highly-respected and recognized institution.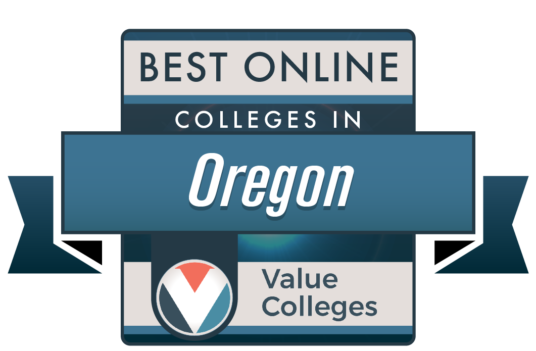 Value Colleges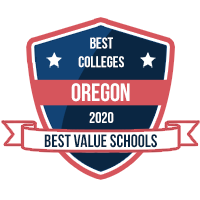 Best Value Schools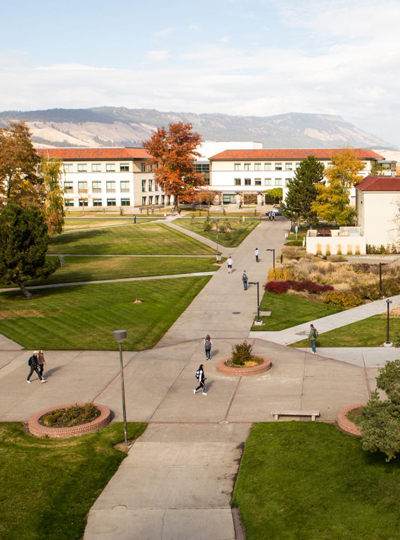 Top Ten Careers
In 2020, college graduates earned on average 67% more than high school graduates.1 In fact, a bachelor's degree is worth $2.8 million on average over a lifetime.2
As recently as 2019, the ten most popular jobs for college graduates3 were:
Software engineer
Registered nurse
Salesperson
Teacher
Accountant
Project manager
Administrative assistant
Account executive
Financial analyst
Account manager
Sources
"Earnings and unemployment rates by educational attainment," U.S. Bureau of Labor Statistics, Office of Occupational Statistics and Employment Projections. Retrieved on September 21, 2021, from https://www.bls.gov/.
"The College Payoff: Education, Occupations, Lifetime Earnings," Center on Education and the Workforce. Retrieved on September 21, 2021, from https://www.cew.georgetown.edu/.
"The Ten Most Popular Jobs for College Graduates," Business News Daily. Retrieved on September 21, 2021, from https://www.businessnewsdaily.com/.