Online Bachelor's in Cybersecurity Degree
Generous Transfer Credit Policy
Experiential Learning Opportunities
Learn More Today
Complete the short form and we will send you additional program information. It takes less than a minute.
Be Ready for Action-Based Cyber Roles
Skip the heavy math requirements to take on cyber roles that help companies protect their digital data and infrastructures. The online Bachelor's of Cybersecurity degree at EOU focuses on practical cyber skills, rather than research or theory, so there are fewer math courses required.
After building a strong base of computer knowledge, you'll take core cybersecurity courses such as:
Offensive Security Tactics and Techniques
System Hardening/Secure Configurations.
Reverse Engineering/Malware Analysis.
Through these classes you can build your offensive and defensive skills and be ready to fight daily cyber battles.
Outstanding Growth
According to a 2020 report by Burning Glass Technologies, the increase in demand for specific cyber skills is outstanding through 2025, and professionals who have them will see salary premiums in comparison to their IT counterparts.
Faculty who work in the industry guide you through the curriculum in small classes to ensure personalized attention. The program gives you the educational background you need to sit for the CISSP certification exam, and the ability to step into new cyber roles with the skills you need to be effective on day one.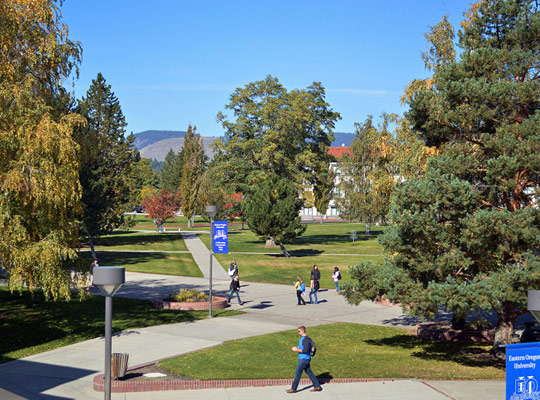 About EOU
Eastern Oregon University was founded in 1929 as a teachers' college and today serves as a center for education, culture and scholarship in rural areas of Oregon. EOU guides student inquiry through academic programs that lead to responsible and reflective action in a diverse and interconnected world.
Accreditation
Eastern Oregon University is accredited by the Northwest Commission on Colleges and Universities.