EOU's Online Computer Science Degree
Learn More Today
Complete the short form and we will send you additional program information. It takes less than a minute.
Eastern Oregon University's Online Computer Science Degree
Whether you want to work in the public or private sector, our online bachelor's in computer science program* is a great choice to prepare you for the variety of new technologies you will experience in technology-centered careers.
With preparation in programming, IT management, data analysis, system administration, software engineering and even individualized advanced study, you could work in small and large businesses, well-known corporations, colleges and universities and private companies. Our computer science curriculum includes popular subjects like algorithms, 3-D graphics and animation and artificial intelligence.
*You may earn a B.S. or B.A.
Why Choose EOU?
EOU's Online Experience
Receive an excellent online education in a time and space convenient for you, while working closely with our support team to ensure your success.
Experienced Faculty
Our faculty are field experts trained to deliver an engaging online education. Professors aim to provide a supportive environment for all students.
Real-World Applications
Students engage in applied learning experiences such as internships, practica and research initiatives that align with lifelong success.
Local to Global Vision
EOU utilizes high-quality, accessible programs that connect the rural regions of Oregon to a wider world through responsible and reflective action.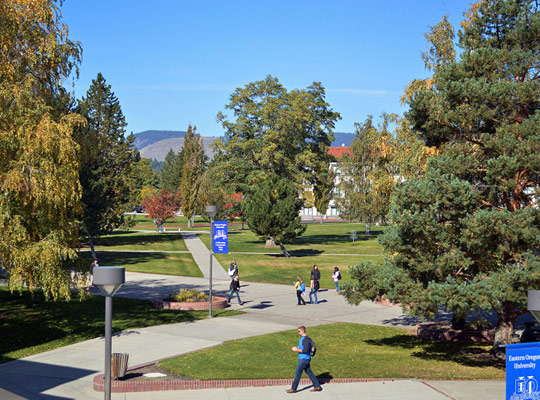 About EOU
Eastern Oregon University was founded in 1929 as a teachers' college and today serves as a center for education, culture and scholarship in rural areas of Oregon. EOU guides student inquiry through academic programs that lead to responsible and reflective action in a diverse and interconnected world.
Accreditation
Eastern Oregon University is accredited by the Northwest Commission on Colleges and Universities.